Designer tableware: our hints for successfully setting a table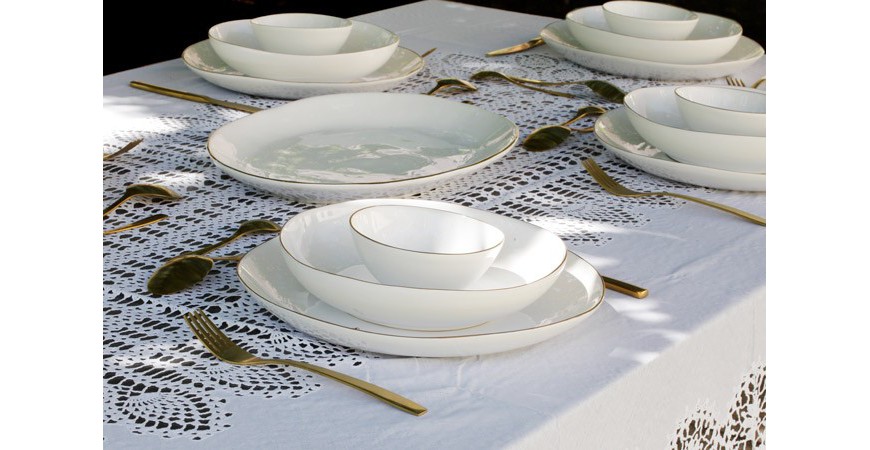 Tips for setting an elegant table
Have you succumbed to the beauty of our white porcelain designer dinnerware set ? If so, you now own unique dinnerware. Perhaps you'd like to create the perfect setting for an unforgettable dinner with your loved ones? 
There's an art to hosting "à la française." Impress your guests using Imaggo Production's tips for creating an elegant table setting. 
6 rules for how to set the table for a perfect dinner party
     

Use a pristine tablecloth 
A properly set table begins with a pristine tablecloth. Choose a solid color and remember that white is the ideal color to set off your unique dinnerware and your table accessories. 
     

Give your guests space 
To feel truly comfortable, the people around your table shouldn't be too close or too far from one another. Place your designer plates 40 cm apart so that your guests can hear each other comfortably. 
     

Arrange the cutlery the French way 
Arranging cutlery can seem complicated, but in fact its placement follows the order in which the pieces will be used. Place the cutlery according to which hand will use it as well as the number and types of courses. 
The English and French have different ways of laying their cutlery. The forks' tines face down in France and they face up in England. The sharp edge of the knife faces the plate. 
     

Respect the proper order of the glassware 
Glasses should be placed above the plate and in descending size. In fact, you should always provide a minimum of 2 glasses: a water glass and a wine glass. That being said never use colored glasses for the wine to allow your guests to see the wine's color before tasting it. 
     

Avoid paper napkins 
Place folded napkins to the left of the plate. That way you won't hide your new unique dinnerware. Cloth napkins are a mark of elegance! 
     

Opt for balanced table decorations  
For elegant, design-inspired table decoration, try to balance beauty and function. Decorations that are too numerous or too large will block your guests' view or hinder their freedom of movement. Give your guests a little breathing room!